The Maine Seeds Were Planted in 1930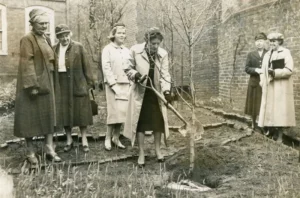 In 1930, there were nine known garden clubs in Maine. A call went out inviting members of those clubs to attend a meeting to consider establishing a federation. The meeting was held at the Portland home of Mrs. Walter B. Brockway, President of the Longfellow Garden Club, who had attended the first annual meeting of the National Council of State Garden Clubs – later renamed National Garden Clubs, Inc. (NGC), in Chicago.
The Garden Club Federation of Maine (GCFM) was organized on June 3, 1931, in Camden, with eight charter clubs and four more clubs interested at that time. On June 7, 1932, the GCFM affiliated with the NGC at their third annual convention in Boston.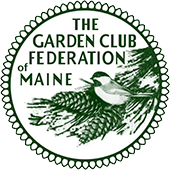 On February 6, 1935, the GCFM voted to have an official emblem or logo. The design chosen was created by Maurice (Jake) Day, a well-known Maine outdoorsmen and former Walt Disney artist. Mr. Day created Bambi for the 1942 Disney movie and other memorable animal characters. The GCFM adopted his design featuring a chickadee perched on a pine branch on July 29, 1935, and this logo lives on today as the official symbol of the organization.
You can learn more about the history of the GCFM and those who have served as presidents of the GCFM over the years by clicking here.
Today's Maine Garden Clubs – Unique as Each Season!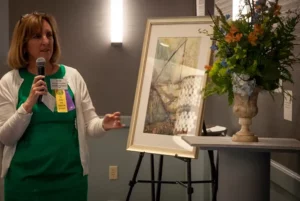 Across the state of Maine, thirty-seven garden clubs are thriving in various sized communities – some serving wider regions in more rural areas, while numerous clubs exist in more heavily populated counties. The state is divided into seven districts, each with a district director and officers. Most districts or their officers meet several times per year to share ideas and resources, network with each other, and serve as a liaison to the GCFM.
Club members span the ages, both male and female, with the younger generations eager to learn from those with years of trial-and-error experience! Each club is unique and establishes their own programs and projects. Many clubs participate in outstanding community service projects that involve gardening in public spaces in their communities. They offer educational programs for youth in local schools, horticultural scholarships, and support of conservation efforts and environmental concerns.
Membership in a federated local club also includes membership in the GCFM, the New England Garden Club, and the National Garden Clubs, Inc. These organizations offer support through networking and educational opportunities and provide many resources, while never dictating what a local club offers for programs or activities.
What We Do…
Garden Therapy Programs
Community Outreach
Youth Activities
Floral Design Workshops/Flower Shows
Blue & Gold Star Memorial Markers
Horticultural Programs
Scholarships
Civic Beautification
Promote Conservation & Preservation
Public & Private Garden Tours
Our Current Leaders 2023-2025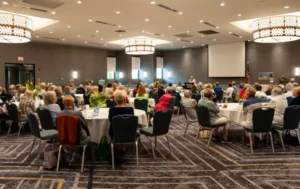 President: Karen Rea, Cape Elizabeth
First Vice President: Becky Gallery, Harpswell
Second Vice President: To be announced
Recording Secretary: Joan Toy, Bath
Treasurer: Margaret Curran, Falmouth
Assistant Treasurer: Cindi Kimball, Orland