GCFM Clubs Help to Keep Maine Beautiful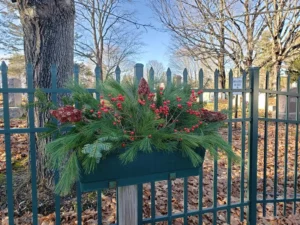 Beautification of community spaces is a major focus of most garden clubs in Maine. Local residents, as well as the thousands of summer visitors to "Vacationland" each year, admire the public gardens at libraries, town halls, and historic sites. Many cities and towns rely on garden clubs to keep these spaces planted and looking beautiful. From colorful hanging baskets on lampposts to cemetery planters, and festive holiday wreaths, garden clubs contribute to their communities by planting, maintaining, and donating funds.
Local Partnerships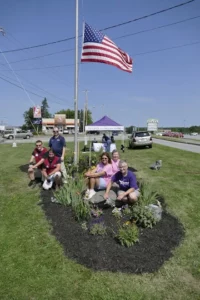 Local clubs often partner with other community groups and organizations to fund and/or help maintain public spaces and plantings. Examples of partnerships around the state include development of a town green plan to enhance both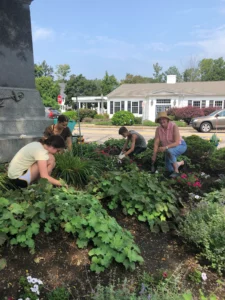 appearance and appeal. Creation of an accredited arboretum in the city of Portland and the Wild Gardens of Acadia on Mount Desert Island are other partnership projects within the state. The Maine Maritime Museum in Bath, the Reddington Museum in Waterville, and the Maine Historical Society's Longfellow Garden in Portland are all maintained by local garden clubs through partnerships with non-profits.
Maine's natural beauty is enhanced a bit more by the hard work and dedication of garden club members from the mountains to the sea!