Gardening is Good for the Soul!
Gardens and nature have been used for centuries as places for healing and restoration. They provide stimulation for all the senses and affect all ages both physically and emotionally. The clubs of the Garden Club Federation of Maine offer a variety of gardening-related activities and programs for both youth and adults.
Many clubs around the state have created gardens at local medical centers and other treatment facilities to provide a place of peace and reflection for patients and visitors. Some examples are The Garden of Hope at the Scarborough Campus of the Maine Medical Center, the Community Living Center Memory Garden at the VA Maine Healthcare Center – Togus, and the gardens at Maine General Hospital in Augusta.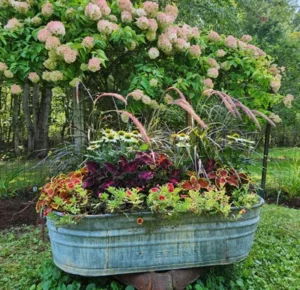 Clubs also maintain gardens and window boxes at senior centers and work directly with individual residents to provide gardening-related activities such as floral arranging, raised bed gardening, and gardening crafts. These activities provide physical and sensory stimulation, and help to enhance concentration and problem solving.
Floral arrangements and holiday baskets are delivered to shut-ins, hospital patients, senior facilities, and Meals-on-Wheels by a number of clubs. These gestures provide a bit of cheer and color at holiday time and on other occasions throughout the year.
Gardens created at schools by the GCFM garden clubs also serve a role in therapeutic gardening. The Lois Murphy Kindness Garden at the Falmouth Middle School is used by the guidance department as a calming environment for students.